In only its second year of operation, Graystone Concrete Contractors is already carving out a niche in Central Texas and directing focus to diversify and sustain continued growth.
For more than 20 years, Todd Woods managed his own general contracting company with a self-performing concrete division. Woods spun off the concrete division and established Graystone as a stand-alone company a little over two years ago. "With careful attention, he shaped key employees into leadership roles," says Cory Cardner, accounting manager and senior project manager. Woods watched Graystone grow from infancy to a company that can independently hold its own.
"In our first two years, we have found ourselves in an extremely competitive market," says Woods. The company prides itself on honest, complete, and straight-forward bids. It's not about being the lowest bid, but knowing that contractors recognize Graystone as consistent and thorough in providing quality work.
Excellent management of resources also has helped the new contractor stand strong in a tight market. "By keeping our overhead low and wisely managing risk, we are able to provide fair and competitive pricing," notes Cardner. Though a small company now, Graystone is an innovative and forward-thinking group, staying in touch with trending business practices and employing the latest state-of-the art technologies and equipment. "We work smarter, not harder," says Saul Perez, general superintendent.
Effective team collaboration has helped Graystone deliver quality products on time and within budget without compromising safety. Maintaining a safe working environment is a priority. The contractor implements world-class safety programs and employs a full-time safety officer to provide Tool Box safety talks and inspections as a part of its routine. Employees also receive specialized safety training regularly.
In its first year, Graystone met an aggressive volume goal of close to $10 million, and it is on track to surpass that in 2014. It is their goal to continue to expand, letting its reputation pave the way as they continue to form and solidify relationships. Notes Woods, "We are a team. We win together. We lose together. And we are winning."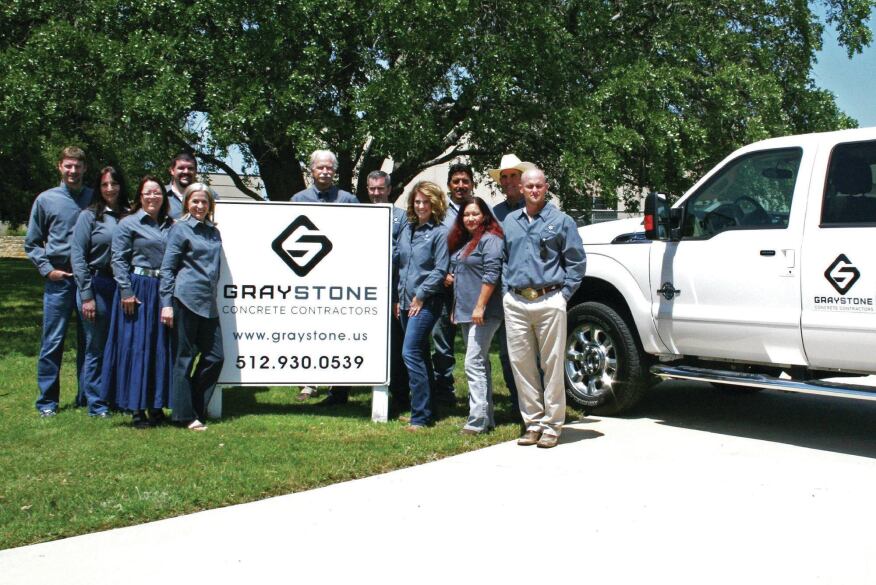 What sets Graystone apart from its competitors?
Passionate people
Quality
Meaningful relationships
Honesty
Respect
Team-oriented
Innovation
Integrity
What are your thoughts about working at Graystone Concrete Contractors?
"This company is family-oriented. We are treated like we are family, not just people here to work and make money for Graystone. We really matter here."—Mirella Aviles
"The leaders have good hearts and believe in themselves and in us, from the top, down to the laborer. When upper management of other companies visit the field, they don't always appreciate the workers in the trenches. Here, they do, and that means a lot. The owner makes a point to shake everyone's hand. He will take a laborer's crusty, dirty hand, look him in the eye and say 'You can count on me, I'm here for you' or 'What can I do for you? How can I help you?' That makes you feel good to work for this man of integrity and for the company he built."—Saul Perez
"We have good energy. The way we do things around here makes a difference. Everyone works together as a team."—Roxanne Woods
"The owners are people of principle and good character and believe that from what they have received, they should give back to others. They are gracious in their support to their employees and the community. I'm proud to work for this company and to do my best every day."—DeeAnn Smith