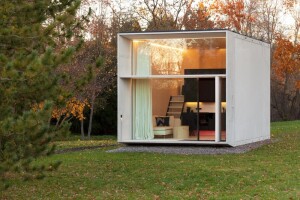 Estonian firm Kodasema is currently developing a a prefabricated concrete micro-home, Koda. The micro-home will be able to be assembled and installed on-site in just seven hours and will cost $111,000 (excluding transport costs) once it is available on the market.
Koda is made from concrete, shipped in precast sections, and requires no foundation if has level footing. Due to these features, Kodasema has dubbed Koda as being relatively easy to move around. Here are the specs for Koda:
The home comprises a total floorspace of 30.3 sq m (326 sq ft), mostly taken up by a large living room and kitchen area on the ground floor. Also on the ground floor lies a bathroom with toilet and bath/shower, while stairs lead to a small bedroom area and laundry room.
Read more >