Your work boots are perhaps your most important piece of safety equipment, protecting the foot and ankle, absorbing impact, preventing nail puncture from below, and improving traction on uneven ground.
Work boots have an outsole that features a deep tread or a tread with multidirectional traction, to provide sure footing; an insole, against which the foot rests; and, in some boots, a midsole cushioning layer and/or footbed or topsole. The latter is often removable for drying, to accommodate orthotics, or for replacement. Some shoes also have a puncture plate between the insole and midsole that provides added protection. If the boots will be worn in hazardous environments, check OSHA.gov for details pertaining to specific occupations.
Safety toe caps that protect the toes from falling projectiles and blunt-force impact are a popular feature in many work boots. They may be made from steel, aluminum, or a composite, lighter-weight material such as plastic, carbon fiber, or rubber.
Steel toe caps typically carry a rating. ASTM F2413-11 is the minimum performance requirement for protective footwear to resist a variety of hazards that could result in injury in the workplace, including impact, compression, and electrical hazard. The rating denotes that the boot is static dissipative and offers puncture resistance on the bottom of the shoe. Alternatively, soft-toe boots can be a good choice for all-day wear if you don't need or want the added toe protection.
Features that differentiate one pair of work boots from another include the flexibility of the upper and the outsole; torsion plates for added stability; padding at the collar and/or tongue, eliminating the likelihood of abrasion against the ankle or calf; insulation; and waterproofing, which fosters more comfortable wear in damp or wet conditions and helps prevent bacteria growth between wet toes. Boots that are fully waterproof have waterproof uppers and sealed seams and enable the wearer to stand in up to 5 inches of water for two hours without the boots leaking.
Some work boots also have a defined heel, which helps stabilize the foot on ladders. For further stability, a boot whose outsole features deep indentations increases stability and traction when standing and walking on slippery surfaces.
Below are nine current models of work boots, six for men and three for women. Most manufacturers offer a choice of color, collar height, and/or toe box options.
Men's Models
</p>
The soft-toed Red Wing 10875, introduced in 1952 and originally developed for farmers, is made in America from smooth, full grain leather tanned at the company's tannery in Red Wing, Minn. Featuring classic styling and white contrast stitching, the boot has a very ample toe box and a flat, white, nonmarking cushioned crepe wedge sole that has minimal tread, which, by design, limits the tracking of mud. (According to the company, ironworkers use boots with flat soles for safety purposes, because there is no heel to catch on a steel beam.) The boot is put together using sturdy, Goodyear welt construction (a strip of leather sewn to both the insole and the upper of the sole all around) and triple stitching designed to seal out debris. This type of construction also allows worn soles to be replaced. The back of the boot around the heel has reinforced leather for added stability.
Pro: classic vintage work boot styling; boots can be resoled at Red Wing factory in-house repair shops
Con: no padding or insulating materials
Outsole material: rubber
Electric hazard protection: no
Sizes: Men's B 10–12, 13, 14; D 6–12, 13, 14, 15; E 7–11; EE 8–12, 13
Warranty: 12-month limited
Guarantee: 30-day comfort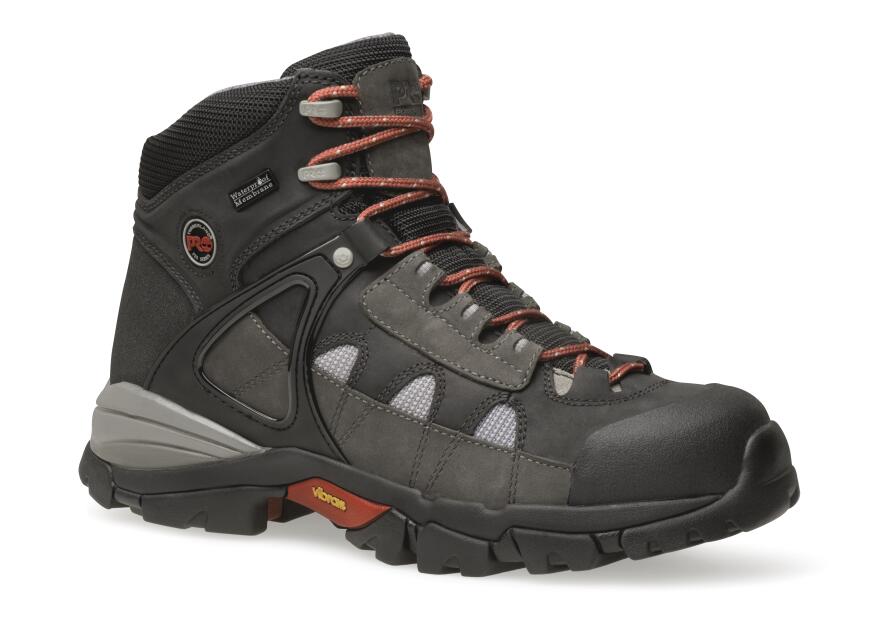 </p>
The Men's Hyperion 6-Inch XL soft-toe, waterproof boot (90625) by Timberland PRO is an athletically styled work boot engineered to provide protection, grip, flexibility, and support. Featuring cement construction, the boot is made with a premium fabric/leather upper and has a Vibram oil- and abrasion-resistant, nonmarking outsole with multidirectional lugs in the forefoot and on the 11/16-inch defined heel. A 360-degree, breathable waterproof membrane helps keep feet dry, while the rubber toe and Ever-Guard leather backstay help resist abrasion from the outside. A fiberglass shank enhances structural support.
The Hyperion's molded EVA midsole is designed to be lightweight and cushioning. The contoured insole provides support at key pressure points and impact zones, including the heel and ball of the foot. The lacing system includes dual-purpose metal hardware for the top two closures, enabling custom tightening by pulling the laces through holes or hooking them in the conventional manner. The shoe also features a thermoplastic urethane (TPU) instep overlay on the outside for improved fit and support. The same style is also available with alloy and composite safety toes.
Pro: meets ANSI and ASTM standards for protection from open circuits
Con: lacing doesn't "flow" easily through the lacing system
Outsole material: Vibram rubber
Electric hazard protection: yes
Sizes: Men's 7–12, 13, 14, 15 M/W
Warranty: All Timberland products are covered under warranty against material and manufacturing defects. If Timberland determines that a product has a material or manufacturing defect, it will replace it.
Guarantee: 30-day comfort
</p>
The Keen Utility Pittsburgh 6-Inch Soft Toe Work Boot features waterproof Nubuck leather, a full-length interlocking torsion plate (shank), and an oil- and slip-resistant, nonmarking rubber outsole. There is also a waterproof, breathable membrane to keep feet dry throughout the day. An additional hydrophilic/hydrophobic liner attracts the moisture from inside of the boot and repels it outward, away from the foot, allowing enhanced breathability and temperature control.
The removable, dual-density, compression-molded EVA (ethyl vinyl acetate) and PU (foam) midsole cradles the foot and provides arch support. The lacing system incorporates three metal hooks, a pair of heavy fabric lacing eyelets at the natural bending point of the foot, and two locking metal hooks. A heavily padded collar and a wide, well-padded tongue shield the underside of the top hooks.
The boot, which features cement sole construction and has a 3/8–inch heel, has a very wide, soft toe box capped by protective rubber toe molding that meets the protective rubber molding along the sides of the shoe. The same boot is also available in steel toe with anatomically correct left and right asymmetrical steel toes that meet or exceed ASTM F2412-11 and F2413-11 1/75 C/75 EH standards.
Pro: bumper protection covers toe, heel, and lower sides
Con: cannot be resoled
Outsole material: rubber
Electric hazard protection: yes
Sizes: Men's regular and wide 7–12 (including half sizes), 12, 13, 14, 15
Warranty: contact Keen customer service
Guarantee: contact Keen customer service
</p>
Sporting traditional work boot styling, the Wolverine Cabor EPX PC Dry Waterproof 6-Inch Boot has a waterproof leather upper, durable metal hardware, a mesh lining with a waterproof membrane to keep feet dry, a polyurethane midsole, and a dual-density polyurethane, antifatigue footbed that distributes weight evenly and enhances durability.
A compression-molded EVA top layer contributes additional cushioning and shock absorption from heel to toe. The honeycomb heel pattern expands to absorb impact, while a ribbed spine in the forefoot flexes through each step to maintain cushioning. The slip-resistant, rubber-lug outsole maintains a wide base both toward the toes and toward the 90-degree, half-inch defined heel.
The boot has a well-cushioned collar and tongue, and the lacing system features durable metal eyelets and lacing hooks.
The Cabor is available in 6- and 8-inch heights with a soft toe or an ASTM-rated composite safety toe (ASTM F2413-11 M I/75 C/75 EH).
Outsole material: rubber
Electrical hazard protection: yes, in safety toe model
Sizes: Men's M 7–12, 13, 14; EW 7–12, 13
Guarantee: 30-day comfort guarantee
Pro: soft leather upper, so the boot likely won't require a break-in period; 90-degree heel for ladder work
Con: on some feet, tongue might not shield the rivets of the lacing hooks from being felt when the boot is laced up tightly
</p>
The Hi-Tec Bandera Pro Mid ST is a durable, waterproof boot with a suede and nylon upper, a padded collar, a removable contoured EVA sockliner, and a compression-molded EVA midsole. The boot, which has a slip- and oil-resistant rubber outsole with multidirectional lugs and an approximately 3/16–inch, sloped heel, features a Ghillie lacing system that uses reinforced fabric loops instead of eyelets, for a snug, secure fit around the foot and rustproof metal lacing hooks for the top two lace closures.
There's also a lot of protection built in, including ASTM F2413-11–approved safety steel toes and a protective, abrasion-resistant PU heel and toe guard that minimize wear and tear.
The boot incorporates a steel shank for improved stability and has a sturdy rubber cup around the circumference of the outsole for added stability and protection.
Pro: Ghillie lacing system keeps feet secure
Con: underside of the steel toe isn't smooth
Outsole material: MDT carbon rubber
Electric hazard protection: yes
Sizes: Men's 7–12, 13, 14, 15; EE 8–12, 13, 14
Warranty: one year
Guarantee: 60-day comfort
</p>
The Carhartt Men's 6-Inch Rugged Flex Waterproof Work Boot with composite toe (CMF6380) features an oil-tanned leather upper with complementary stitching and a rugged rubber, slip- and oil-resistant, nonmarking outsole with widely spaced, self-cleaning lugs. The outsole has a defined, ½-inch heel.
The boot includes an EVA midsole with PU strobel (sewn-in) pad and PU with Ortholite odor- and fungus-inhibiting insoles that wick away moisture and provide five layers of cushioning and flexibility. The boot also has a rubber toe and rubber heel bumper, a padded collar and tongue for Achilles flex-joint relief, and a breathable waterproof membrane. It utilizes cement construction and has rubber molding around the entire outsole.
The lacing system features three grommets, a movable eyehook at the flex of the foot, and two quick-lace hooks at collar height.
Pro: classic vintage work boot styling; boots can be resoled at Red Wing factory in-house repair shops
Con: no padding or insulating materials
Outsole material: rubber
Sizes: Men's M 8–12, 13, 14; W 8–12, 13, 14, 15
Warranty: check with retailer
Guarantee: check with retailer
Women's Models
</p>
Built on a woman-specific last, the outdoor-inspired, sporty looking Flint Low from Keen has ASTM-rated, left and right asymmetrical steel toes and oil- and slip-resistant, nonmarking rubber outsoles. The boot features waterproof leather with mesh inserts to enhance breathability in hot temperatures. There's a removable, dual-density EVA footbed with molded EVA midsole for maximum support and a contoured heel lock. The same style is also available in an electrostatic-dissipating soft-toe design.
Sizes: Women's 5–11 M, W
Pro: ASTM-rated left and right asymmetrical steel toes
Con: suitable for light rain but not for puddles
</p>
The Women's Alloy Toe ESD Powertrain (92669) from Timberland features a synthetic upper and athletic mesh; cement construction for flexibility and reduced break-in time; and a polyurethane, abrasion-resistant, nonmarking and slip-resistant outsole that incorporates proprietary antifatigue technology to provide shock absorption and energy return. There's a fiberglass shank for structural support and a conductive polyurethane midsole for consistent static-dissipative performance. The women's Powertrain family includes three styles, all with alloy safety toes, in an array of colors. Two models are ESD (including the 92669) and one, EH.
Sizes: Women's 5.5–10, 11 M/W
Guarantee: 30-day comfort guarantee
Pro: alloy safety toe
Con: not waterproof
</p>
The Wolverine Piper woman's work boot is part of Wolverine's Peak AG (Anti-Gravity) series, designed for lightweight comfort, durability, and fatigue reduction. The boot, which has a rubber-lug outsole for traction, is made from waterproof roughneck leather and features a padded collar and a waterproof membrane designed to keep feet dry on rainy days and a removable, air-cell PU footbed along with a molded EVA midsole for cushioning underfoot. The boot, which uses cement construction, is available in brown and black with pink wave mesh lining with a composite toe cap and in brown without a toe cap.
Sizes: Women's M 5–10, 11; W 5–10.
Pro: Attractive styling with contrast stitching and a pop of accent color on collar and laces
Con: Black boot not available without a toe cap
Patti and William Feldman write about technology for the construction industry. They live in Upstate New York.