World of Concrete 2019, the 44th edition of the largest industry trade show in North America, concluded last week to record-breaking attendance numbers; 60,511 registered industry professionals attended exhibitions from more than 1,500 companies. New and improved products for masonry and concrete construction, and ready-mixed production debuted during the show. Take a look at some of the impressive products on display.
Ergo Spine wields four times the reaction force of hand lances, giving contractors a more powerful and safer alternative to removal. A power head that tilts up to 45 degrees removes concrete in sections from 9.8 inches to 6.6 feet, leaving rebar clean and undamaged. An Ergo Spine with a Power Pack producing 40,611 psi and 10.6 gallons of water per minute removes an estimated 8.8 cubic feet per hour.
The DT-100 (1 yard) and DT-200 (2 yards) dump trailers feature a double-action hydraulic pump, adjustable relief valve, and forward self-adjusting electric brakes. DOT-approved lighting ensures road safety and compliance; heavy-duty fenders, one-piece rubber splash guard, and supporting tongue cross bars enhance durability. Adjustable load-leveling hitch maximizes tow capacity and provides a smooth, level ride.
Ground penetrating radar system (GPR)
Featuring an intuitive touchscreen interface and six-button control options, the StructureScan Mini XT all-in-one ground penetrating radar (GPR) system locates rebar, conduits, post-tension cables, and voids. The Mini XT also can help identify structural elements, including pan decking and concrete cover, and determine slab thickness in real time.
Armed with a 117-horsepower Cummins diesel engine and able to lift 12,000 pounds, the Traverse's extendable boom moves loads by traveling horizontally. Up to 70 inches of horizontal boom transfer allows contractors to land loads very near the specified lift height without having to coordinate multiple boom functions.
Offering an 8-hour walk-on time and 24-hour drive-on time, Re-Cap renews surfaces for about 25 cents per square foot versus $3.50 to $5.50 per square foot to remove and pour a new slab. Its bond is four times stronger than concrete, so substrate fractures or cracks before its bond with the resurfacer fails. Designed to withstand foot and vehicle traffic, the shrinkage-compensated repair material is applied with a squeegee, trowel, or brush.
Connect the LED Jobsite product suite via daisy-chained cable and triple-tap outlets for energy-efficient reusable lighting in any pattern you need. The four fixtures exceed military-grade drop-test standards and, with IP65 weatherproof ratings, withstand jobsite abuse.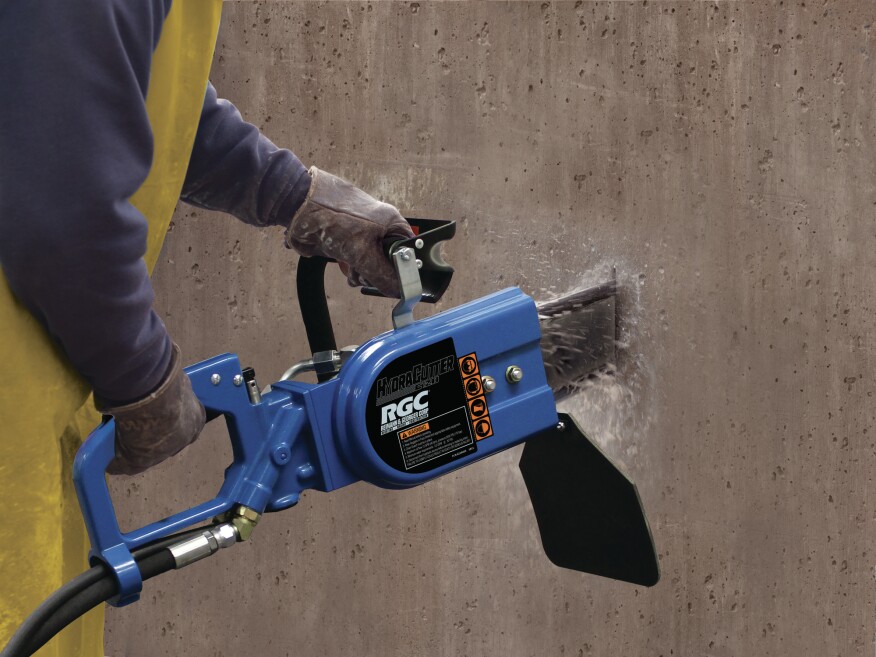 Powered by a separate gas or electric generator that won't cut out when needed, the hydraulic C120 HydraCutter is reliable in extremely cold temperatures and harsh conditions.
Use Poly-Grip for high-strength dowel and tie bar adhesion in full-depth concrete repairs and short-term anchoring and shear loading applications in accordance with allowable stress design (ASD) for projects requiring service temperatures of -40 degrees to 176 degrees F.
A closed-circuit version of the Cobra 230, the Cobra 230R's 8-foot-by-4-foot post screen ensures oversize material is recirculated or stockpiled. Detachable afterscreen system and conveyor enable standard operation or transporting the impact crusher separately. Each section becomes wider as material moves from the feeder through the impactor onto the product belt, ensuring unrestricted flow.
The SpiderScreed Series is a drive-in system designed for upper deck concrete and slab-on-grade screeding applications. The drive-in SpiderScreed machine was designed to be lightweight and powerful, featuring a 100% TIG welded tubular aluminum cage design that keeps overall weight down to approximately 1,100 lbs. (500kg).