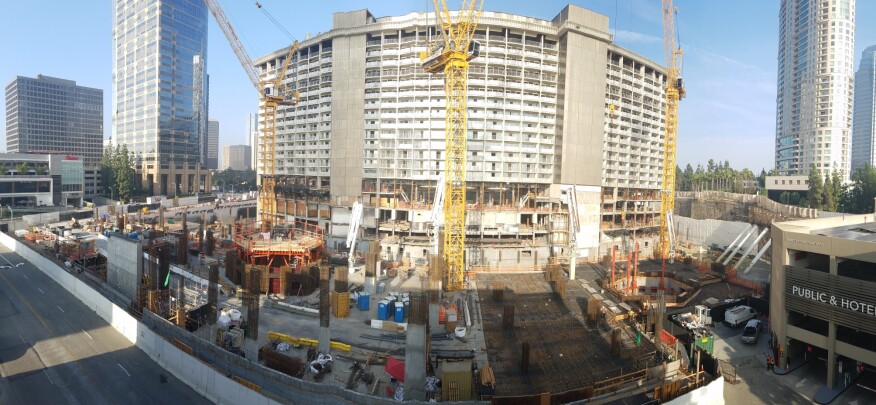 On March 1, 2016 the fabled Century Plaza Hotel in Los Angeles closed for a deep renovation as part of the $2.5 billion Century Plaza development project.
The interior of the 19-story masterpiece was gutted down to its structural components. Flanking the lodging landmark are a pair of 44-story residential towers, set to be delivered in 2021. San Francisco-based Webcor is the general contractor overseeing the three building, 2.9 million square foot project.
Make or Break
Among the challenges for Webcor was aged construction documentation, well over 50 years old, and the architect's extremely tight tolerances for the interior rebuild. "An inch or two deviation makes or breaks ADA regulations," says Liam Tran, Webcor virtual design manager.
With the pressure on to precisely understand existing conditions and skeptical of 1960s-era documentation, Webcor officials opted for a two-pronged fact-finding strategy. First, they engaged a surveyor team to laser scan the hotel's support columns on the gutted floors.
At the same time, Webcor decided to invest in their own laser scanning capability, purchasing a FARO unit. "FARO Laser Scanners are geared to building construction. We were in an enclosed structure with short sight lines. After a couple test scans, we were satisfied and chose FARO," recalls Tran.
Close Call
The scanner ROI was rapid: Webcor scans revealed the surveyor's scans "… were off by anywhere from an inch to two inches. It's easy to imagine the error cascading and multiplying throughout all subsequent construction. "That was an eye-opener. Scanning identified key issues that we could resolve before we went too far in the wrong direction," says Marc Abdelsayed, Webcor's assistant virtual design manager.
Another anomaly emerged when the Webcor team discovered the west side of the building's radial form "… actually expanded by three inches over the decades, which caught everybody by surprise. We even hand-measured it just to be sure. The scans were spot-on," Abdelsayed says.
Flat? Level?
"We're able to scan into our BIM coordination to see if we're having conflicts or not," adds Abdelsayed. "We're also able to check-out floor flatness and elevations level-to-level. Because it's such an old building, we create floor heat maps with elevation points and distribute them to the team. Colleagues who manage certain trades need that information."
And the rising twin towers next door? "We purchased the Rithm Inspector Plug-In to measure floor flatness and floor levelness," reports Tran. Webcor closely monitored slab pours across 88 levels of combined tower construction.
"Shocked, Amazed, and Impressed"
Webcor team leaders have been "shocked" by what laser scanning revealed says Abdelsayed. "I don't know what the right word is, but shocked, amazed, and impressed all fit," observes Abdelsayed. Tran says the company now integrates laser scanning in the workflow of all projects.
Exactly the kind of storybook ending you might expect in a $2.5 billion Hollywood production.